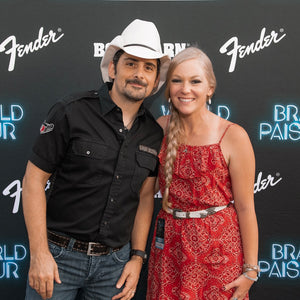 Meeting Brad Paisley!
These last few weeks have been an absolute blur of radio interviews, new merch designs, t-shirt orders, live shows, photoshoots, and more of the things I love most.  I'm blessed to see this dream coming to life, but there are still days (or weeks) that I feel completely drained from the amount I've poured myself into making it all happen.  So many of you have asked about what meeting Brad Paisley was really like & how the Mississippi Valley Fair went (hear the tea HERE on my podcast).  
So, here's how it all happened- here's how I got to meet the singer of my beloved "Whiskey Lullaby", "Then", "When I Get Where I'm Going", and so many more favorites!
It all started with an interview on Dywer & Michael's (wait, WHAT) 97x morning show.  These guys were kind enough to bring in a little local country act on their rock station & promote my fair show (it still blows my mind how incredibly kind they were).  While on the air they surprised me by having the Mississippi Valley Fair's head man (shoutout to Shawn Loter!) on the phone & asked him in front of God and everybody if I could meet Brad Paisley.  Thank goodness he said yes & the next two days were obsessive thinking of what to ask Brad & how to get him to hear my music.  
As the hours counted down I tried to focus on playing my own show, signing t-shirts, taking pictures, and being in the moment BUT I couldn't help but keep glancing at the clock for 6:45 to pop up & it be time for me to make my way back stage.  Finally, the time came & I left my family to babysit my equipment while I found myself backstage waiting to meet Brad Paisley.  
There was a bus with "Plaid Paisley, LLC" on it and that's when the nerves really set in. I was convinced he would nonchalantly walk out of that bus and chat with his fans for the next 45 minutes before the show.  After all, that's the only thing I see myself doing- always finding ways to treat my fans well.  Interrupting my thoughts was Brad's (I'm assuming) tour manager telling us all to back up while a large candy apple red tour bus made by Corvette started back in before us.  We waited til about 7:50 when Brad finally arrived (the show started at 8) and that's when the craziness set in that all 30-some people would be meeting him in ten minutes.  His tour manager was less than polite and shuffled us around multiple times- even giving me attitude for being a single person when photos were "supposed to be in pairs".  A great reminder that every person who works for an artist is a representation of who they are & how they believe people should be treated.  (Later a friend reminded me, "people who actually matter aren't douche bags) and that's something I will carry with me forever.
The lined moved quickly and any thoughts of intimate dialogue with someone I've looked up to for so long flew out the window.  I had to set my purse (with "Consequence" inside it) on the table and could collect my pre-signed headshot after my photo was taken with Brad.  The next fleeting moment went something like this:
Me- "Hi, how are you?!"
Brad- "Great!  What's your name?"
Me- "Angela.  I just played a show under the grandstands!"
Brad- "That's awesome!  How did it go?"
Me- "Really well.  It was packed!"
Brad- "That's great!  Best of luck to you."
Me- "Thank you so much!"
Read that dialogue as fast as you can & imagine having your picture taken in the middle of it- that was the experience!  Six seconds of pure bliss.  You can tell Brad is a genuine guy who's down to earth and kind.  I left that experience having a better understanding of how I need to treat people and to never forget the people who have gotten you to where you are.  I'm so incredibly grateful for the experience & the photo to prove it all happened!   
---