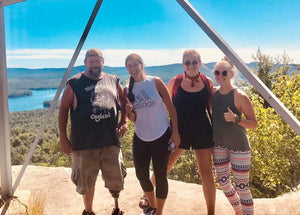 New York, New York!!
 I'm back on black soil after a week-long trip to Utica, New York & Ontario, Canada!  My design team and I drove to upstate New York for a show in Utica- which was AMAZING.  They have a hugely diverse population which was so different from Iowa and refreshing!  
While at the show we met an amazing woman who offered to take us hiking in the Adirondack Mountains.  We of course took her up on the offer, spending the next day deep in conversation & connection.  On our way up to the peak of Bald Mountain, we saw a man with one leg making this same journey- we were SO proud of him and grateful he allowed us to share the photo!
This trip was my first time to New York and a wonderful experience.  We saw Niagra Falls & drove home through Canada- what an amazing country!  Here's my advice for you- when you get a chance, take it.  When you come to a fork in the road, take it.  Stop living life my spinning in circles or even worse- standing still.  There's so much out there to explore & feel inspired by.  Talk more soon!
xx, Angela
---